With a group like this, it's hard to pay attention to the action.
The window-rattling thunder from this year's Rolex 24 at Daytona has long since subsided, but we can't shake flashes of that incredible race from our minds. Of course, the on-track action inspires plenty of reminiscing, but it's what was in the infield that has us daydreaming the most. As is customary, a section of the infield spectator area played parking lot to classic race cars of Daytonas past.
Sandwiched between a sprawling beer pavilion and the primary team garage area, this field of Daytona classic race cars is knee-buckling in breadth and significance. There's a little bit for every enthusiast; Detroit iron had ample representation at this year's display with a smattering of Mustangs, Camaros, and a trio of musclebound Greenwood Corvettes. Predictably, Porsche was out in full force with the enigmatic Gunnar G99-001, 962-14B, a 914-6, and a handful of 911s. From the other side of the world, a flame-spitting Mazda RX-8 and a Skyline GT-R gave JDM fans an earful of screaming rotary and howling inline-six, respectively.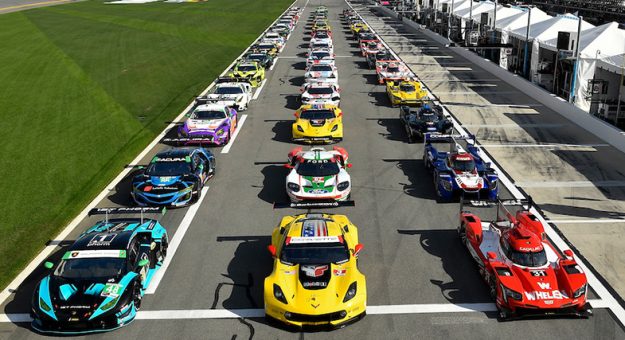 We've highlighted a few of our favorites below, but make sure to hit the full gallery for the entire field of Daytona classics.
Thanks to the many successes of the Corvette Racing team, it's hard to imagine endurance racing without at least one Corvette on the grid. Prior to the debut and subsequent domination of the Corvette C5-R in 1999, General Motors rarely backed Corvette race teams in any serious capacity, instead of focusing on the competition careers of the Camaro and Monza.
That didn't stop privateers from modifying their own Corvettes and hitting the race circuit in search of glory. Of the many solos 'Vette outings over the years, none made as strong an impact as John Greenwood and his Stingrays. The racer and car fabricator turned a handful of C3-generation Corvettes into swollen, star-spangled endurance racing juggernauts, blowing eardrums and burning rubber at Sebring, Daytona, and Le Mans.