Have you ever heard of the movie Shutter Island? It is a psychological thriller featuring Leonardo DiCaprio, who plays the US Marshall Teddy Daniels character. The movie follows Teddy as he investigates the mysterious disappearance of a patient from a hospital for the criminally insane located on an island off the coast of Massachusetts. As his investigation reveals more and more secrets, Teddy begins to question his sanity as apparitions appear and events spiral out of control.
Top Movies Like Shutter Island That You Should Watch
No wonder this movie has become a cult classic since its release in 2010. It's creative storytelling and thrilling plot make it captivating from start to finish. We will discuss why Shutter Island has gained a strong following and explore other movies with similar elements. From mysterious disappearances to twisted plots, we'll uncover numerous films that evoke the same level of intrigue and suspense as Shutter Island. Buckle up, because you're in for a wild ride!
1. A Scanner Darkly (2006)
A Scanner Darkly is a 2006 American animated science fiction thriller film directed by Richard Linklater, based on the 1977 novel of the same name by Philip K. Dick. The movie takes place in a near-future dystopia in Orange County, California, where a narcotic substance D has taken hold of the population. The story follows Fred, an undercover agent tasked with infiltrating a drug dealer's group, but as his drug use deepens, he becomes unsure of his own identity and the nature of his mission. The film features an impressive cast that includes Keanu Reeves, Winona Ryder, Robert Downey Jr., and Woody Harrelson.
2. Jacob's Ladder (1990)
If you enjoy watching movies like shutter island, check this film out. Jacob's Ladder is a 1990 American psychological horror film directed by Adrian Lyne. The story follows Jacob Singer, a Vietnam veteran who experiences disturbing hallucinations and flashbacks that blur the line between reality and delusion. As Jacob delves deeper into his own past, he realizes that the horrors he witnessed during the war. That may have more to do with his current predicament than he initially thought. The film stars Tim Robbins, Elizabeth Peña, and Danny Aiello. Jacob's Ladder is widely regarded as a horror genre classic. It has been praised for its thought-provoking themes and unsettling atmosphere.
3. The Gift (2015)
"The Gift" is a psychological thriller directed by Joel Edgerton, who also wrote and starred in the film. The plot revolves around a married couple, Simon and Robyn, who encounter Gordo, an old acquaintance of Simon. Then, soon become embroiled in a series of disturbing events. The film explores past trauma, revenge, and forgiveness themes and has received critical acclaim for its suspenseful plot and strong performances.
4. The Fountain (2006)
If you liked movies like Shutter Island, check out this one. It is a romantic science fiction film directed by Darren Aronofsky and starring Hugh Jackman and Rachel Weisz. The story spans over a thousand years and explores love, mortality, and the search for eternal life. The film features three interwoven narratives, each set in a different time period, and blends elements of fantasy and spirituality. "The Fountain" received mixed reviews upon its release. But has gained a cult following for its stunning visuals and ambitious storytelling.
5. Enemy (2013)
The film tells the story of Adam, a history professor who becomes obsessed with a minor actor he sees in a movie. As he delves deeper into his obsession, he discovers that the actor, Anthony, is his doppelganger. The film builds tension and a sense of impending doom, culminating in a shocking and ambiguous ending. It is called one of the scariest in film history. With excellent performances by Jake Gyllenhaal in the dual roles of Adam and Anthony, Enemy is a haunting exploration of identity and duality.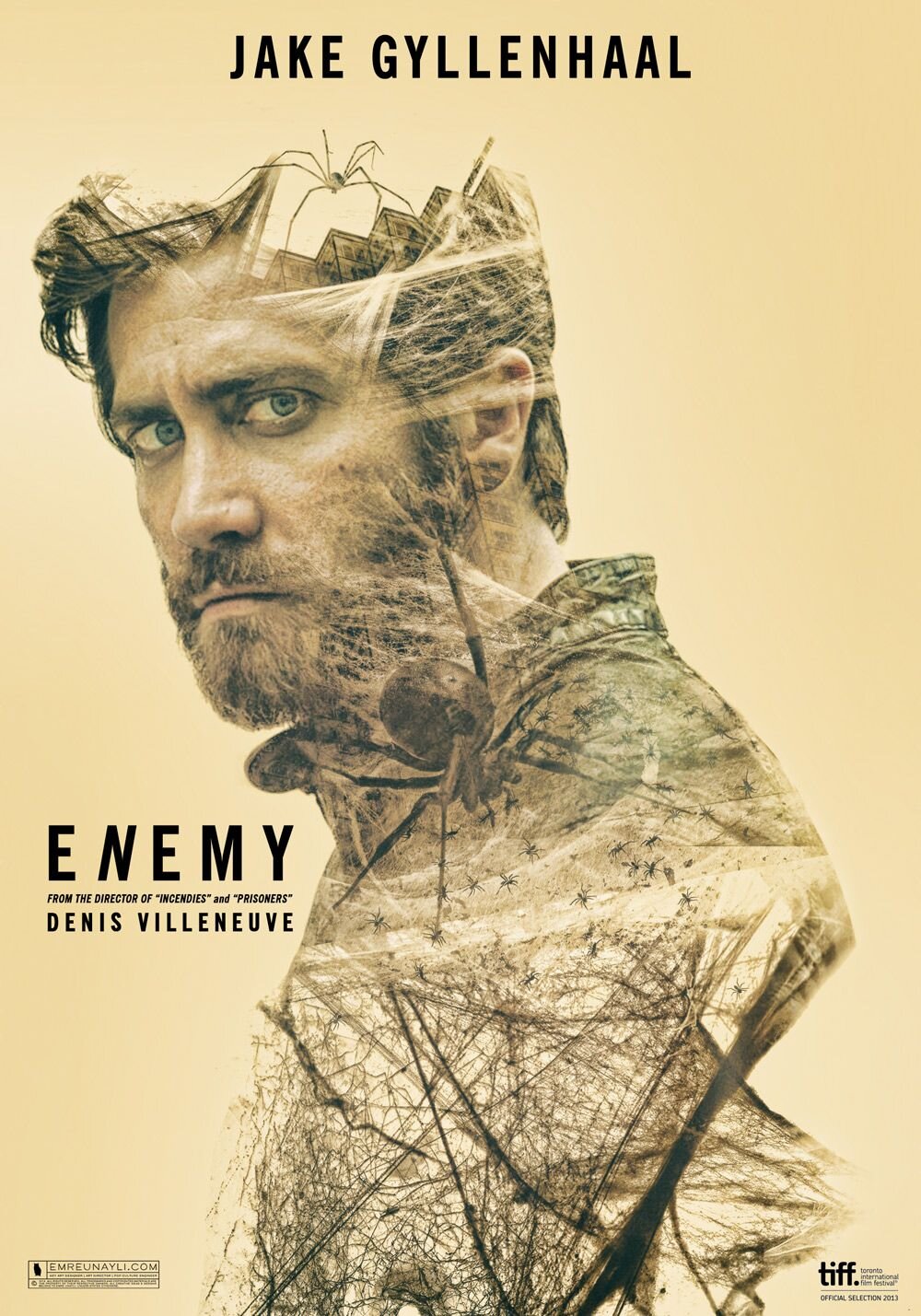 6. Gone Girl (2014)
An adaptation of Gillian Flynn's best-selling novel of the same name, Gone Girl (2014). It is a mystery thriller film directed by David Fincher. The film follows the disappearance of Amy Dunne on her fifth wedding anniversary. Her husband, Nick, becomes the prime suspect. As the investigation unfolds, the story twists and turns, with shocking revelations and unexpected plot twists. The film explores themes of marriage, identity, and the power dynamics between men and women. With standout performances by Rosamund Pike and Ben Affleck, Gone Girl is a gripping and intense film that will keep you on the edge of your seat.
7. Cat People (1942)
This is one of the best movies like shutter island. Cat People is a 1942 horror film produced by Val Lewton for RKO Pictures and directed by Jacques Tourneur. The film follows the story of a young Serbian artist who fears that she will transform into a panther if aroused to passion or anger. The film was a critical and commercial success, establishing Lewton's hauntingly graceful style where the suggestion was often used instead of explicit violence. Cat People is often considered a landmark in the horror genre. Exploring psychological themes and using mood and atmosphere to create tension and fear.
8. I Walked with a Zombie (1943)
Jacques Tourneur and Val Lewton's RKO Pictures released the horror film I Walked with a Zombie in 1943. On a Caribbean island, the film follows a young nurse who has been hired to care for the increasingly bizarre behavior of the sugar plantation owner's wife. The film incorporates light and shadow to portray a scary, compelling, and engaging story. I Walked with a Zombie has been praised for its unique blend of horror and voodoo elements. Its exploration of themes such as colonialism and the supernatural. The film has become a cult classic and is considered one of the greatest horror films ever made.
9. The Curse of the Cat People (1944)
Mysterious, mythical, and magical: the Curse of the Cat People is one of the most unique films ever created. From the celebrated minds of Val Lewton, Gunther von Fritsch, and Robert Wise comes a psychological fantasy thriller that explores the boundaries between reality and imagination. Starring Simone Simon, Kent Smith, and Jane Randolph, this tender tale of terror follow a young girl's extraordinary friendship with her father's late first wife and an enigmatic actress living in secrecy. Feel the chill of the unknown as you get lost in this captivating world where anything can happen – experience The Curse of the Cat People today!
10. The Seventh Victim (1943)
The Seventh Victim (1943) is a horror film directed by Mark Robson and produced by Val Lewton. It follows a young woman who discovers her missing sister has joined a secret society of devil worshippers. The film is notable for its atmospheric cinematography, minimalist approach to horror, and portrayal of the occult. It is often regarded as a classic of the horror genre. The Seventh Victim was a critical and commercial success upon its release. It has since been praised for its influential role in shaping the horror genre and for its thematic exploration of existential dread and alienation.
Final words
These are the best movies like shutter island. In conclusion, the movies listed above share common themes with Shutter Island, including psychological suspense, mystery, and a mind-bending narrative. These films take viewers on a journey through the human psyche, exploring complex emotions and thought processes that can sometimes be difficult to grasp.
Some of these movies, such as A Scanner Darkly and Jacob's Ladder, delve into the intricacies of mental illness. While others, such as Gone Girl and The Gift, explore the dark side of human relationships. Regardless of the specific topic, each film listed above offers a captivating and thought-provoking experience for those who enjoy delving into the depths of the human mind.