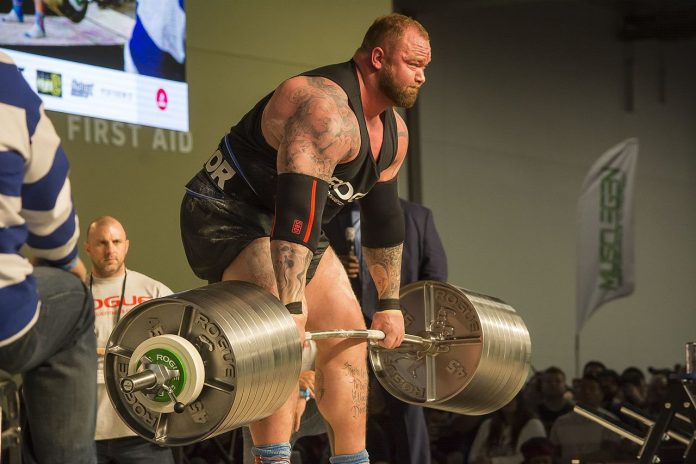 The official world record for the heaviest deadlift in the world has been broken. It is none other than 'The Mountain' from the Game of thrones. Hafthor Bjornsson is the new name who has set the world record deadlift and lifted 1104 pounds to achieve this mark. This is a miraculous feat that has never been achieved before. Many people have tried and failed.
Hafthor Bjornsson had to lift 1104.5 pounds or 501 Kilograms to achieve this miraculous feat. He posted a video of the moment he achieved this feat and it was trending on YouTube soon. The short one-minute video is enough to send a chill done to someone's spine.
Hafthor Bjornsson is from Iceland and has won many bodybuilding contests. In an emotional Instagram post after achieving the record, he said that he would remember that moment throughout his life. He talked about how he had set his sight on this record a while back. Then like a dog with a bone, he persevered and trained hard to achieve this world record deadlift. He thanked his family, friends, fans, and sponsors for their support during his journey. He also thanked his haters.
All about deadlifts
Deadlifting is a rigorous weight training exercise. A bar loaded with weight is lifted off the ground till the hip level. The torso must be perpendicular to the floor while doing this and then it is placed back. The initial pull is the hardest part of this exercise. This is not an exercise that one can just start off with. To perform a deadlift, you need to be strong enough and for that, you have to train. Hafthor Bjornsson trained for months before his World record deadlift. During this period, he looked after his diet and exercise and came up with a sound regimen.
Hafthor Bjornsson accomplishments
Hafthor Bjornsson had been participating in various bodybuilding championships before achieving this feat. Since 2012, he was always second or third in the World's Strongest Man competition. In 2018, he went on to win this championship and finally stood first. He has also bagged the Arnold Strongman Classic title for the last three years consecutively. He has been sharing his training routine for the last few months leading up to the world record deadlift. Along with his training routine, he also posts other workout videos on his YouTube channel. His world record deadlift video, however, is by far the most enthralling one on his channel.
Conclusion
This world record deadlift achieved by Hafthor Bjornsson is sure to remain up there for ages to come. Deadlifting is a sport that pushes the human body to its limits. People train and build themselves up for years before they attempt such a feat. Few humans have the build and strength that Hafthor Bjornsson has. So, he seems to have cemented his place on the charts. His short video illicit responses of shock and awe from around the world. Heaps of praise and congratulations have come his way. In hindsight, the name 'The Mountain' was the perfect name for Hafthor Bjornsson in the Game of Thrones.